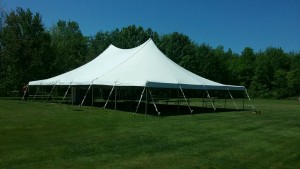 Not just in the rain but in any kind of weather, the tent is usually where the party is, at the party. Whether it is where you have the food out, where the band is playing, or maybe neither, the tent always provides a central point for the party. It helps gather everybody and keeps them from dispersing. This way, it makes it easier on the host or entertainer to please their guests or audience.
The perfect type of tent for your party can depend on a few different things which is why we have frame tents and pole tents available for rent. Tent rentals are our specialty but we can accommodate many other needs for your party as well. Our Chairs and Tables page lists some other available rentals that we have to offer. We have a variety of brown, black, and white chairs, as well as a variety of different tables. There are long rectangular tables, round tables and even high cocktail tables available for rent. There are also packages that we offer which include chairs and tables along with the tent rental. If you need to add anything to a package or would like to customize one of your own, just give us a call and we will be more than happy to work with you. We serve the greater Buffalo area from the Northtowns to the Southtowns and everywhere in between.
There isn't a type of event that we have't supplied tent rentals for. From engagement parties and weddings, to company picnics and neighborhood block parties, we will help you find the perfect tent setup for the occasion. So if you plan on having an outdoor event or party anywhere throughout Buffalo, give us a call and we can guide you through it the right way!