For high school students, seniors especially, summer just can't come quick enough. Not only does school let out, but seniors graduate, and that means no more high school for those who passed (flying colors or not). It is a special moment where one chapter closes and another opens. It is also a time for reconciliation, bringing family and friends of the graduate together to celebrate one's achievements. For parents and other family members who have also experienced such, it is just as exciting to be a part of the next generation's success. As parents, grad party season is a favorite time of the year at Main Event Tents for for that very reason.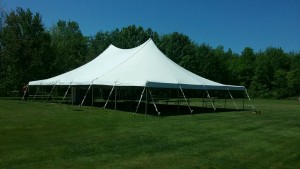 We strive to help make the celebration go as smoothly as possible by providing all the necessary supplies for a grad party. Various sized tent rentals are available along with countless other party rentals such as tables, chairs and even linens (just to name a few). We'll transport, set up, and take down the tent for you. We'll also transport any other partysupplies you wish to rent. Browse our website to check out some of our other rentals. Please keep in mind transportation fees are not included with the pricing info on our website. We offer special packages that are suited specifically for graduation parties, so just give us a call and we'll be able to assist you as soon as possible. Although calls are always preferred, for your convenience we have provided a brief contact form on each of our web pages that you may fill out and submit. Be sure to let us know if you would like to subscribe to our blog feed!
Main Event Tents will hook you up with what you'll need to accommodate your guests at any party or special event, not just high school grad parties! College grad parties also keep us busy in the summer, along with weddings, birthdays and more. Summer will be here before we know it, so don't be too late to book your date(s)!