As we approach yet another new year, we are preparing for the remaining weddings we have to set up for. This past year was particularly busy for us as we provided a lot of tent rentals for graduation parties and weddings. We spent a lot of time in the Southtowns, as much of the rental requests we received came from Orchard Park, West Seneca, and Hamburg.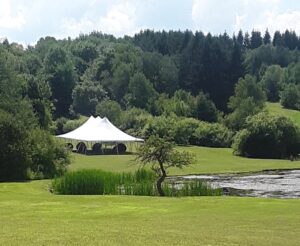 We cannot express enough how beautiful and peaceful the Southtowns of Buffalo are. Being based in Hamburg, we are well aware of the scenic backdrops that the Southtowns have to offer whether it be for a wedding reception, engagement party, or even graduation party. For example, check out the image on the left of one of our tents set up with a beautiful, scenic backdrop. It is only a matter of time before the word gets spread even more!
If you plan on hosting a wedding, party, or special event in Hamburg, Orchard Park, or another part of the Southtowns, make sure you give us a call! We consider ourselves a one-stop shop as we likely have all the rentals you'll need for your wedding reception or party, including chairs, cocktail tables, and more. We also accommodate all party sizes, as none are too big or too small!