With venue prices increasing and capacities being limited, outdoor weddings have become increasingly popular. They're convenient, cost-effective, and you don't have to worry about there being not enough space for your guests. The main thing you may want to consider is some overhead coverage in case it decides to rain on your wedding day (we all know how unpredictable Western New York weather can be).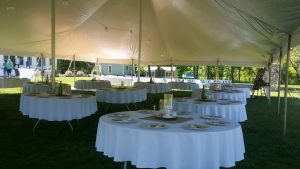 There are other benefits to outdoor weddings, such as it being more accommodating for families with children. Kids can have more room to run around and play with less of a chance to find trouble. This helps everybody win as parents are less stressed and the kids can also enjoy themselves. For the bride and groom to enjoy their special day, it especially helps if all of their guests are able to as well. 
We look forward to another year of outdoor weddings! Whether you are planning a wedding, a part of a wedding party, or will be attending a wedding, we wish you a happy celebration! Be sure to contact us if you have any questions regarding tent rentals or any other supplies that you may need for an outdoor wedding.