Outdoor tent weddings are getting more and more popular in Western New York. Guests and hosts both seem to love them regardless of whether they're during the day or the evening. For the hosts, the convenience and cost-effectiveness are just a few of the upsides of having an outdoor tent wedding. And for the guests, who doesn't enjoy a nice summer breeze while celebrating with friends and family?
Have a look at an example of a nice setup by referring to the picture below (as well as the pictures on some of our other blog posts):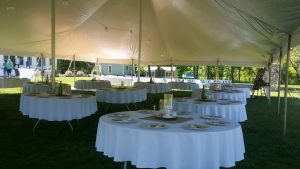 With the option between a frame tent and pole tent, along with various sizes, we can cater to whatever you'll need for the big celebration. Dance floors are available to rent as well. Price and size info can be found on our party supplies and packages page. We strive to be as close to a "one-stop shop" for your wedding or party as best as we can. If you have any questions just give us a call and you will be taken care of. Maybe there's something you're looking for that you can't find on our website? We will likely be able to guide you in the right direction if it is something we cannot provide for you.
Serving the greater Buffalo area for years, Main Event Tents will help make your special event memorable. The wedding rentals for this summer are booking fast so be sure to call us soon to make sure we have all the right supplies available for your celebration. We look forward to serving you!