Serving the Northtowns and Southtowns of Western New York, there is no party too big or too small for Main Event Tents. Celebrate your child's high school graduation this summer by hosting an outdoor party with family and friends. Typically, an outdoor celebration is an easier clean-up than hosting a celebration at your home, and can also be less stressful.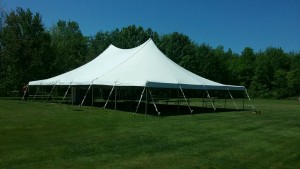 With the help of Main Event Tents, we can provide a pleasant environment at your celebration that is protected from the sun and/or rain showers. We offer several different sized tents to help accommodate any size party. We offer pole tents and frame tents, each providing their own usefulness depending on what you're looking for. For example, frame tents do no have a center pole so there could be more utilized space underneath the tent. 
It's hard to believe we already talking about summer plans, but we all know it will be here before we know it! Give us a call at 716-649-9604 to book your tent rental. Be sure to ask about our other party rentals as well.