What beats celebrating with friends and family outside in the summer?! For your son or daughter's high school graduation party, be sure to provide the ultimate party venue. Make it special for everybody, especially with the nice summer weather we have been having in Western New York! High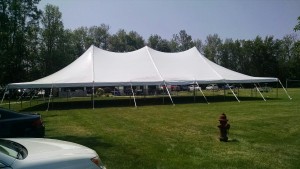 school graduation is what helps make summer such a great, exciting time of the year. And it's not only an important time in the graduating student's life, but the whole family's!
Keep everyone safe and happy at the graduation party by protecting them from the sun. The tent set up is so essential that you cannot have a grad party without one. Whether it's to keep the drinks cold or provide shade, tent rentals for the high school graduation party are a no-brainer.
From the Northtowns, to the city of Buffalo and the Southtowns, Main Events Tents has been providing high school graduation parties throughout the greater Buffalo area with tent and party rentals for over a decade. Give us a call at 
716-649-9604
 to book us or get a free quote. We also have
prices for different tent setups
on our website.